FamilySearch
Searching, matching & merging.
To help you in researching your family history, FTM 2017 now includes integration with FamilySearch and its billions of records. Family Tree Maker automatically searches the FamilySearch database — just like it does with the Ancestry database.
And to make it easy for you, the searching, matching and merging process for FamilySearch data is the same as it is for Ancestry data. It will all look very familiar to you.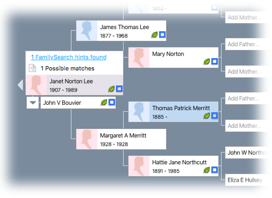 How to Use "Hints"
In the tree view, you will see blue square icons appear that indicate hints from the FamilySearch database. Hover over a blue square to see how many hints were found for that person. Click the blue square, and the same dialog boxes that you are accustomed to seeing from clicking on Ancestry's green leaf hints will appear. Only now you also have access to and can add data from FamilySearch's billions of records as well. It's that easy!
Note: To begin with and as a preliminary step, Family Tree Maker is only pulling information from trees on FamilySearch. However, in the coming months we expect to provide access to FamilySearch records databases as well. Stay tuned!
About FamilySearch
FamilySearch is the largest genealogy organization in the world, operated by The Church of Jesus Christ of Latter-day Saints. Millions of people use FamilySearch records, resources, and services each year to learn more about their family history.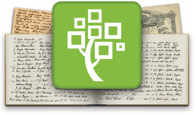 *To use FamilySearch features you must register with FamilySearch.org (it's FREE!) and have an Internet connection.