Welcome to HyperStudio® AUTHOR!

The perfect iBooks Author companion.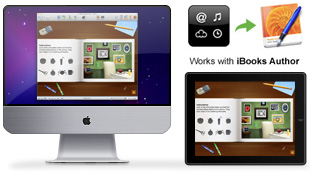 HyperStudio AUTHOR is an elegantly simple way to create extraordinary interactive books for the iPad. This new app creates HTML5-based media elements that can be dropped into Apple's free iBooks Author, and the resulting iBooks can be distributed freely, or published on Apple's iBook store. Teachers can prepare interactive presentations and download them onto students' iPads in the form of iBooks. Students will be able to tell their stories in a professional eBook form with highly interactive multimedia content they create themselves with HyperStudio's award-winning drawing, painting and presentation tools.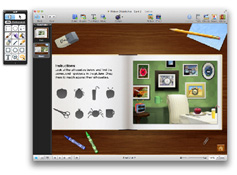 The perfect companion for HyperStudio 5 too.
If you are already using HyperStudio 5, then you know how to use HyperStudio AUTHOR. You can start by importing your HyperStudio stacks, or create new interactive stacks from scratch. Either way, you can't
go wrong since HyperStudio AUTHOR contains only those HyperStudio 5 features that will work in an
iBooks Author project. That way, you create perfectly compatible interactive iBook widgets every time.
Feedback
Please use the Feedback form to share your thoughts about HyperStudio AUTHOR with us, submit suggestions for improvements, or report any issues you might encounter.
HyperStudio is a registered trademark of The Software MacKiev Company.
iBooks Author is a trademark of Apple Inc., registered in the U.S. and other countries.